The ninth movie in the Fast & Furious franchise, "F9" opens in the U.S. on June 25, 2021. A cast of familiar characters returns to the silver screen starring alongside a roster of exotic, American muscle, Japanese import, military armored, classic and custom-built specialty cars. They join off-road ATVs, motorbikes, military trucks and high-end performance vehicles on camera.
To get the rigs ready for their time the spotlight, Fast & Furious alumni Dennis McCarthy returned as the picture vehicle supervisor on "F9" joining London-based Alex King ("Justice League", "The Man from U.N.C.L.E.") in the role. Together they worked to show the vehicles in a variety of settings and locations from London to Thailand to Tbilisi.
Scroll down to see more vehicles that share the screen with Vin Diesel, Michelle Rodriguez, Tyrese, Ludacris, John Cena, Nathalie Emmanuel, Jordana Brewster, Sung King, Helen Mirren, Kurt Russell and Charlize Theron in "F9".
Jeep Gladiator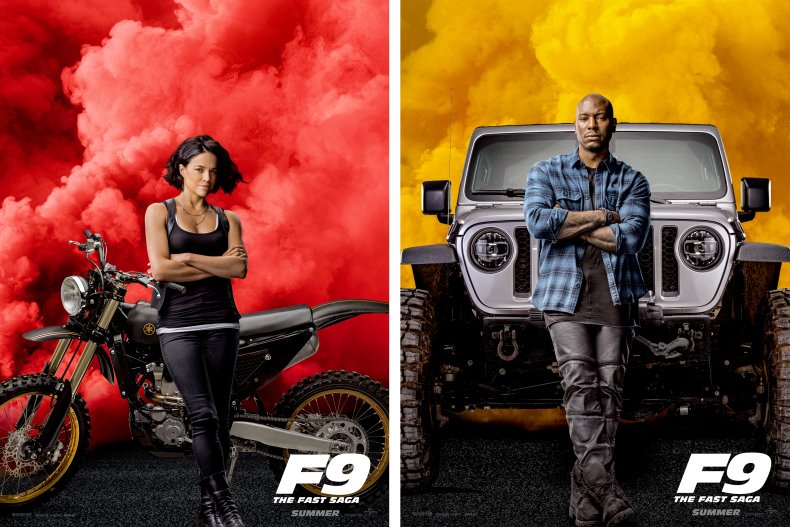 The midsize pickup truck features in the film with a roof-mounted spare, beadlock-capable wheels, metal bumpers, a front-mounted winch and a lifted suspension. Look for it in the jungle during an epic chase scene.
Yamaha YZ250F
The lightweight, high-performance Yamaha YZ250F is a motorcycle ready to win on race day, or simply outrun rivals in "F9". It gets its power from a 250cc four-stroke engine that's paired with a five-speed wet clutch.
1984 Pontiac Fiero
Built by General Motors from 1983 to 1988, the mid-engine sports car has a rather out-of-this-world cameo in the movie thanks to some heavy modifications. You'll have to see the movie to learn more.
1327 Charger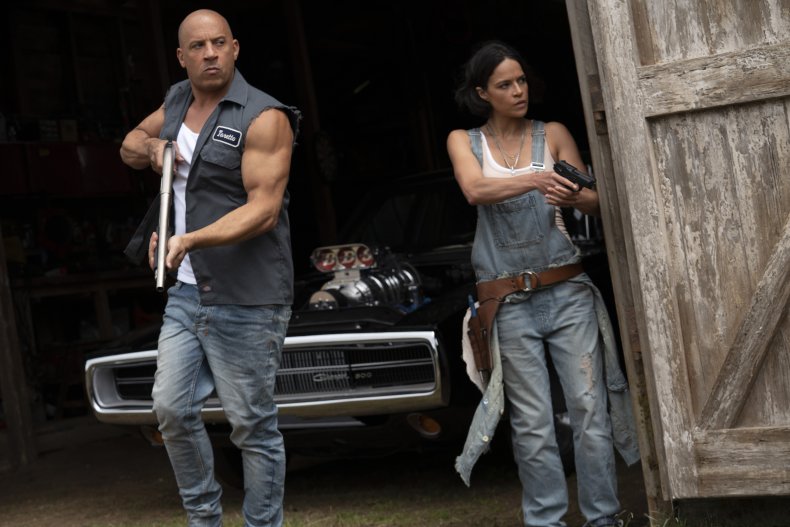 Dom's mid-engine charger has been remade for the new movie delivering over-the-top looks and performance. It has a Hellcat engine as well as a combination of old and new technology. The car is joined in the garage of the new Toretto home by some pretty impressive company in "F9".
Armoury Truck
It's not very practical, but the Armoury Truck in "F9" was built to perform much in the same way a tank does. Behind-the-scenes clips of the film's production show the tank plowing through multiple innocent vehicles sitting on the side of the road in a chase scene.
Jaguar XE SV Project 8
The Jaguar XE SV Project 8 is the most impressive Jag in modern history. The car is extremely capable on the track thanks in no small part to its 5.0-liter V8 engine that makes 592 horsepower. It's powerful enough to push the $188,495 special edition around the Nürburgring Nordschleife in just 7:18.36, the fastest time by a mid-range production car.
2020 Toyota GR Supra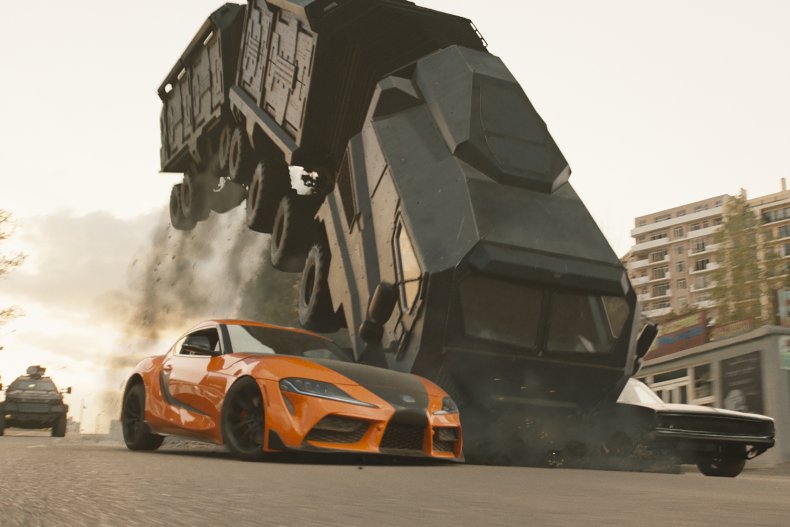 The orange current generation Toyota GR Supra wears a black "v" detail on its hood and is designed to remind movie watchers of the RX-7 that Han drove in "The Fast and the Furious: Tokyo Drift". The car in the movie is equipped with HRE wheels that were inspired by the Supra pace car for the NASCAR Xfinity Series.
Armadillo
Think of it as a battering ram on wheels. Based on a Mercedes Unimog, Armadillo is a 14-foot high, 26-ton engineering masterpiece that took the "F9" team nearly four months to craft the two of them that were needed for the film. Everything from the cab back was custom-built in London. Look for it in the third act of the film racing around the hilly and curved streets of Tbilisi.
2020 Dodge Charger SRT Hellcat
This Charger has had a heart transplant. McCarthy's team moved the powertrain from a 2020 Dodge Challenger SRT Hellcat into a 2016 Dodge Charger SRT Hellcat and mated it with the original six-speed manual transmission from the Challenger. It got some upgrades too: a Magnaflow exhaust, aftermarket pulley and injectors and the hood and wheels from a Challenger SRT Demon.
Noble M600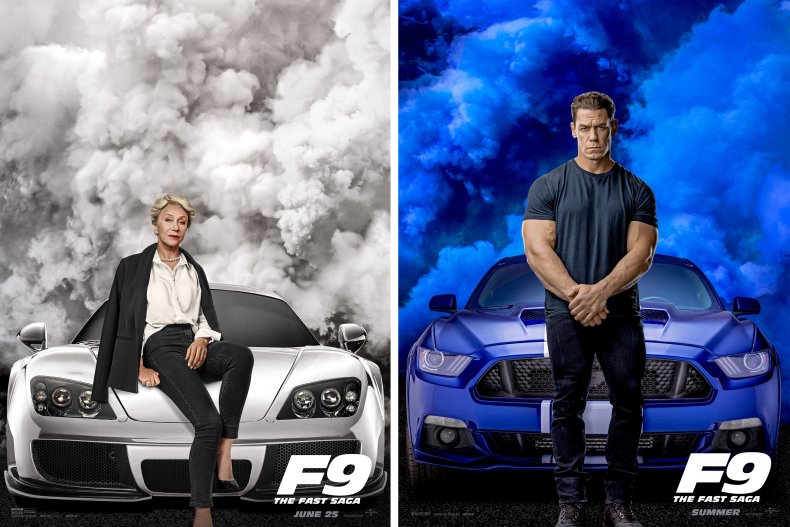 Helen Mirren has wanted to be a driver since 2015 but it wasn't until "F9" that director Justin Lin finally let her get behind the wheel. In the film, Mirren, as Queenie, takes Dominic Toretto (Vin Diesel) for a ride in a Noble M600.
It gets its power from a 650-horsepower, twin-turbocharged 4.4-liter V8 Volvo/Yamaha engine. A de-tuned version of the engine can be found under the hood of older Volvo XC90 SUVs.
The hand-built car was loaned to the filmmakers by Noble. Buying one new costs about $287,000.
2016 Ford Mustang GT350
Actor John Cena is introduced as Dom's brother Jakob Toretto in "F9". Like his brother, the new character has an affinity for fast cars so director Justin Lin ordered up a 2016 Ford Mustang GT350 for him. However, not all is what is seems. During a downhill chase scene, the Mustang bodies are actually mounted on Polaris RZR 1000s to maximize the scene's potential.
1970 Dodge Charger Tantrum
This Charger puts classic looks and modern equipment on the silver screen. The Charger Tantrum is a carbon fiber-bodied model with HRE wheels that's powered by a 9.0-liter twin-turbocharged Mercury Racing V-8 QC4v crate engine. The horsepower? A mere 1,650.
Acura NSX
The Acura NSX blends a hybrid powertrain with track-ready drive dynamics. It's not hard to look at either. The American-made supercar is capable of generating 573 horsepower and 476 pound-feet of torque, which help it reach a top speed of 191 mph.
Jeep Grand Cherokee Trackhawk
There's more than one Hellcat-powered vehicle in "F9". The Grand Cherokee Trackhawk is a two-row SUV that packs a power punch thanks to its supercharged 6.2-liter V8. The 707-horsepower model is nearly as quick off the line as a Porsche 911.
The Others
When you see the movie, keep your eyes peeled for the Turner Party scene. Filmed on the grounds of Hatfield House in Hertfordshire, England, the scene features close to $14 million worth of vehicles including a TVR Sagaris, Lamborghini Aventador SVJ, Lexus LFA, Mercedes-AMG GT R, Lamborghini Countach Anniversary Edition, McLaren 720S, Apollo IE and Ferrari La Ferrari.
There's also a scene set in Mayfair, London that showcases approximately $1.8 million worth of vehicles including a Bugatti Veyron, Bentley Continental GT, Rolls-Royce Wraith, Aston Martin Rapide, Morgan Aero 8 and Mercedes SLR McLaren.